DISASTER VICTIMS INSPIRE RESCUER
Alameda man lives to save, aid others

by Leslie Fulbright

reprinted from the Oakland Tribune, Sept. 6, 1999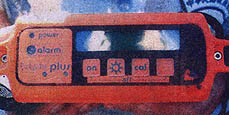 Doug Copp developed this detection device which locates dead bodies by sampling bacteria activity. He used it to locate mass grave sites in Kosovo.
ALAMEDA - when Doug Copp speaks of pulling a Turkish girl from the crumbled remains of a nine-story apartment building, his eyes sparkle and his face exudes joy.
"The only event I can compare it with is when I fell in love with my wife," Copp said.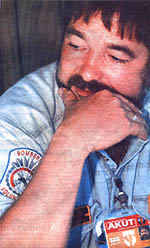 Doug Copp, founder of the American Rescue Team International, reflects on his years of being witness to large-scale death and destruction.
The Alameda man has been a rescue worker for 15 years. In that time he has played a role in rescue operations in Japan, Mexico, Bosnia, Kosovo, Oklahoma city and countless other points on the globe where disaster has caused misery and death. The former demolition expert was coaxed into rescue work by the Mexican consulate in 1985 and has been on more than 100 missions since. He expected the mission in Turkey to be as tragic as the others. What he didn't anticipate was that this rescue would touch him so deeply. He suggests the difference began with an emotional plea he received minutes before he boarded his plane for Turkey last month.
Copp usually spends his air time mentally preparing for the aftermath of the disaster that awaits. He gets into an analytical, unemotional state of mind, preparing for horror while focusing on the primary purposes of his mission: saving lives, aiding those who are suffering and helping to reduce the devastating aftermath.
As Copp prepared to board a plane in New York City, he was approached by five Turkish men who spotted his gear and figured that he was on his way to help with the rescue.
One told Copp that his wife and three children, ages 3, 6, and 9, were trapped in a building and asked if he could do anything to help.
"I told him it would be the first thing I did when I got there," Copp said. He started crying and kissing me. He was so relieved.
Throughout the flight, the man visited Copp's seat to make sure he had not changed his mind. Copp had called the Turkish command center to inform them of the delay and assured the man his first task would be to rescue his family.
After departing the plane, the Turkish man called his brother to tell him they were on their way.
"His brother told him his wife and kids were dead," Copp said. "He put his arms around me hugging and kissing and crying.
That's why the rescue of quake victim Tugba Altun was so fulfilling.
"I started out with three dead kids," Copp said.
Altun was stuck in the center of a concrete apartment building in Golcuk -- pancaked between nine stories of concrete -- for 3½ days. "She was in the dark with rats running all around her," Copp said he later found out. "She couldn't move at all."
One arm was under a beam, the other packed tightly by dirt, and her legs were dangling below. A worker discovered the girl's head sticking out as he dug into the center of the mass with a backhoe.
"She (later) said that she heard the machine and for eight hours was terrified her head would be ripped off," Copp said. "In front of her face was a kingpin holding up what was left of the building."
Copp said he arrived in time to stop a French rescue team from pulling that pin. He then lay down next to Altun and told her everything would be all right.
"We had a tremendous amount of communication without language," Copp said. "I have seen so many dead and horribly mutilated kids, I just had to be next to her so that if she died I would too."
Copp visited the girl at the hospital after he eased her from the wreckage. There, she told him that when she first saw him she knew everything would be OK.
"That made it so much more of a joy to save her," he said.
Copp returned to his Alameda home last week. A boat he made by hand and a trailer that serves as his office are at Park Street Landing not far from his home.
As chief of the American Rescue Team International (ARTI) and a pioneering inventor he does not often rest. He hasn't had a day off in more than a year and his schedule is already booked into the millennium.
His next trip -- unless disaster strikes unexpectedly -- will be to Canada to help find a man who was swept into a lake by an avalanche. He will use his Copp Casualty Locator, a machine he invented that detects flesh-eating bacteria on corpses. He used it successfully in the Swiss Air crash and to find mass grave sites in Kosovo.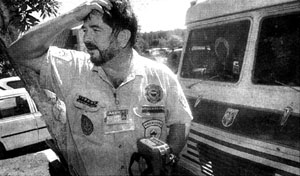 Doug Copp, founder of American Rescue Team International, uses his RV parked at Park Street Landing as an office space occasionally. His handmade boat is moored nearby.
The Copp Life Locator, another one of his 37 patents, detects gasses from human bodies through up to 80 feet of concrete and can pick up surfacing gaseous bubbles in water 300 feet deep.
"These devices have reduced the time for locating victims from days to minutes," Copp said.
ARTI -- which Copp formed after returning from Mexico in 1985 -- has thousands of support members and 200 operational members. Copp has signed cooperative agreements with 23 countries worldwide.
He canceled a trip he had scheduled to Russia to help with the 1989 Loma Prieta earthquake and said that although the many deaths were devastating, he usually handles quakes that take 10,000 to 40,000 lives.
When I went to Kobe, there were 7,000 dead and $300 billion in damage," Copp said. "And Japan's architecture is vastly superior to ours.
"It just proves that nothing built by a man can withstand the force of nature."
There are so many variables in the earthquake equation, Copp said, including duration, soil conditions and most of all -- luck.
"When I hear officials say 'earthquake proof', I feel like throwing something at them," he said.
Copp suggested quake victims use the "Triangle of Life" method which he developed after having crawled inside 800 collapsed buildings. He claims his technique will result in a 75 percent to 95 percent survival rate.
The duck-and-cover method will cause victims of an earthquake to get crushed because when buildings collapse, the weight of the ceilings falling upon the objects or furniture inside crushes them, Copp said.
But there is a safe space or void next to the large objects, which Copp calls the Triangle of Life. He said victims will be in the best position possible by lying next to those objects.
Copp said he has rescued more than 250 people and assisted in the rescue of several thousand.